Bastard Trumpeter
Latridopsis forsteri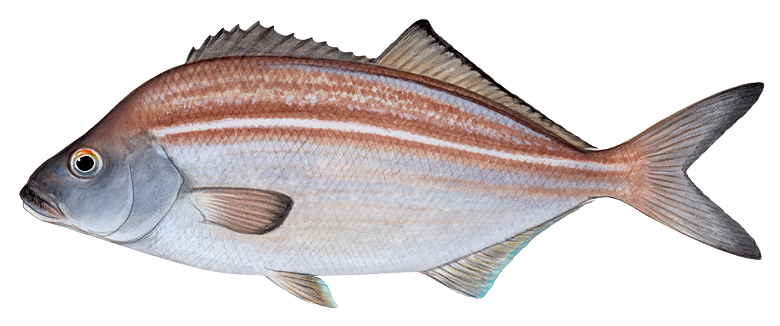 2019/20 Assessment Summary
STOCK STATUS
DEPLETED
---
Summary
Trends in commercial and recreational catches of Bastard Trumpeter suggest record low population levels and that the species is recruitment overfished. The current minimum legal size limit is below the size of maturity such that the fishery is based almost entirely on juvenile fish. Data-limited stock assessment methods suggest that stock recovery under current levels of catch is theoretically possible, but evidence of recovery is lacking.
---
Importance
Key
---
Stock
Tasmanian Scalefish Fishery
---
Indicators
Catch, effort and CPUE trends
---
Managing Jurisdiction
State (Tasmania)
---
Background
Bastard Trumpeter was one of the first fish species to have been commercially exploited in Tasmania. Their apparent abundance around reefs close to newly established Hobart meant that they were an important source of seafood for the fledgling colony. Their exploitation was further aided by the relative ease at which they could be caught using gillnets set within accessible shallow inshore reefs. Recent commercial catches of Bastard Trumpeter are taken almost exclusively by gillnet. Recreational fishers have also long been targeting Bastard Trumpeter as an important fish.
Bastard Trumpeter reside on inshore reefs until about 4–5 years of age (approximately 50 cm long) before moving offshore into deeper water as they approach maturity and apparently remaining in that habitat for the remainder of their lives (Harries and Lake 1985, Murphy and Lyle 1999). Both commercial and recreational fisheries are based almost entirely on inshore juvenile fish.
The full 2019/20 Scalefish Assessment can be found at the link: